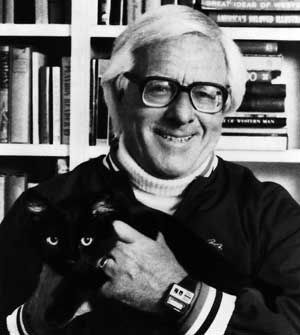 Ray Bradbury, one of the most celebrated authors of the last century and the writer of such classic works of science fiction as Fahrenheit 451 and The Martian Chronicles, died on June 5, 2012 after a lingering illness. He was 91.
A voracious reader when he was growing up in Waukegan, Illinois, the young Bradbury devoured the works of writers such as Edgar Allan Poe and Jules Verne, Edgar Rice Burroughs and H.G. Wells, drawn to their prose, their ideas, and their evocation of gothic scares or other worlds. In his teenaged years Bradbury began to write, and in his stories Bradbury was as influenced by the speculative authors as he was by Sherwood Anderson, the early 20th-century author of Winesburg, Ohio, and the pioneer of the pastoral realist style. His first short story sale came in 1941, and he proved himself prolific and marketable enough that he was able to write full-time beginning in 1942.
In a career that spanned sixty years and hundreds of publications, Bradbury wrote short stories, novels, comic books, television scripts, and screenplays. Among his most famous works are Fahrenheit 451, a dystopian novel set in a world where books are outlawed; The Martian Chronicles, his short story collection about humanity's conquest of the Red Planet; and Something Wicked This Way Comes, a novel about two boys and the demonic carnival that visits their small town. Bradbury also penned the script for John Huston's adapation of Herman Melville's Moby-Dick (the story of which Bradbury fictionalized in Green Shadows, White Whale), and later he wrote scripts for The Twilight Zone and Alfred Hitchcock Presents, among other programs. Bradbury also ventured into comics. In the 1950s, Ray Bradbury's name was frequently seen in the page of William Gaines' EC Comics. In recent years, Harper Collins adapted his novels Fahrenheit 451 and The Martian Chronicles as graphic novels.
Though Bradbury's work ranged from children's books to hard-boiled detective fiction, Bradbury was most often thought of as a writer of science fiction, even though a comparatively small proportion of his work was in the science fiction genre. Often, Bradbury's best work used the trappings of science fiction, such as in The Martian Chronicles, so that he could explore the human condition.
Bradbury was the recipient of many awards, including the World Fantasy Award for lifetime achievement, the Bram Stoker Award, an Emmy Award, the Prometheus Award, the Pulsar Award, the National Medal of Arts. He was also named a Grand Master by the Science Fiction Writers of America.
On the occasion of his death, President Barack Obama issued the following statement:
For many Americans, the news of Ray Bradbury's death immediately brought to mind images from his work, imprinted in our minds, often from a young age. His gift for storytelling reshaped our culture and expanded our world. But Ray also understood that our imaginations could be used as a tool for better understanding, a vehicle for change, and an expression of our most cherished values. There is no doubt that Ray will continue to inspire many more generations with his writing, and our thoughts and prayers are with his family and friends. (link)
Said Neil Gaiman of Bradbury:
He was kind, and gentle, with that midwestern niceness that's a positive thing rather than an absence of character. He was enthusiastic, and it seemed that that enthusiasm would keep him going forever. He genuinely liked people. He left the world a better place, and left better places in it: the red sands and canals of Mars, the midwestern Halloweens and small towns and dark carnivals. And he kept writing.

"Looking back over a lifetime, you see that love was the answer to everything," Ray said once, in an interview.

He gave people so many reasons to love him. And we did. (link)