Firebox is selling a USB hub shaped like the TARDIS.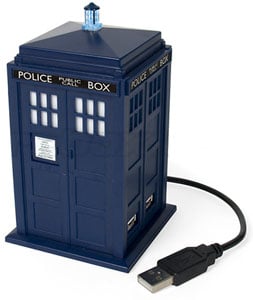 According to this article at The Register the TARDIS USB hub "not only flashes its light and blares out the time-space craft's famous ripping-a-hole-in-reality take-off sound."
I don't need a USB hub–I have one, and I've never used it, except for one day where I decided that instead of plugging my keyboard and trackback into the five USB ports my tower has I'd plug them into the USB hub so I could say I was using my USB hub, only to decide an hour later that better not to use something at all than to use it completely pointlessly, and went back to having my keyboard and trackball plugged straight into the back of the tower.
Yet, I want this. It's a TARDIS! It looks cool!
Unfortunately a search of Firebox's website doesn't turn up the TARDIS USB hub. (A search earlier today did, but indicated that it was out of stock.)
I did, however, find the USB-powered Lava Lamp and the USB-powered foam dart cannon. Maybe with toys like those I'd use a USB hub…. 😉
I'll keep checking back at their website. I want that TARDIS! 🙂